When it comes to choosing between house siding options for new or updated exterior walls, the choices can be overwhelming. Not every siding material will be a good fit for every house, and there are many factors you'll want to consider as you decide the available options. This article will take a look at the benefits and drawbacks of the six most popular siding options used in Northeast Ohio.
Things to Consider When Deciding Between Siding Options
When people begin the process of deciding between siding options, the first thing they consider is often the aesthetics of each option. Obviously, the exterior walls play a big part in how a house looks, so this is an important consideration. In fact, upgrading your home's siding can significantly increase its curb appeal and market value.
But you also want to consider the durability, expected lifetime, and maintenance needs of each option. Remember, your exterior siding is not only there to look pretty, but also to provide insulation and protect your home from the elements. Depending on the climate, different siding options are better suited for this. In Northeast Ohio, we see it all. So, our siding options needs to be able to protect against driving rains, both scorching and frigid temperatures, and be fairly resilient in a moist or humid environment. Another important aspect to consider is how energy efficient you want your siding to be. For climates like ours, it's important to think about which options will provide a good insulative envelope that will retain heat in the winter and repel it in the summer.
Giving Thought to Exterior Trim
Finally, whether you're building a new home or upgrading the siding on an existing home, you want to give some thought to the trim around your windows and doors. If you're replacing the siding on your home's exterior walls, it's likely the trim also needs to be replaced. You want to select a trim that will complement the siding in both form and function, so that it looks nice and works together with the siding to protect your home.
The 6 Most Popular House Siding Options
All told, there are nearly two dozen house siding materials to choose from. Everything from vinyl and brick to steel logs and glass walls. For residential houses in Northeast Ohio, however, these are the six most popular choices.
Vinyl Siding
Heralded as the most popular siding option in the United States, vinyl siding was introduced in the 1960s and quickly rose in the ranks due to its durability, versatility, low maintenance needs and comparatively low cost. Made from polyvinyl chloride, vinyl siding is a synthetic material that was initially made to look like wooden strips. Over the years, technology has advanced to make vinyl siding one of the most versatile options on the market. Available in a wide range of colors and different forms, such as horizontal or vertical panels, shakes, shingles, lap, fish scales, and beaded designs, vinyl can fit the aesthetics of nearly any home.
Vinyl siding requires minimal maintenance, aside from periodic power washing, and is durable enough to last as long as 50 years. Foam insulation can be added to the back of vinyl siding to add an insulation value of R-2 to R-6, while also strengthening the siding against impact damage. Vinyl's biggest drawback is that it can be damaged by high winds, high temperatures and even hail. While vinyl withstands wide temperature fluctuations, prolonged exposure to extreme heat or cold can also cause warping and damage.
Wood Siding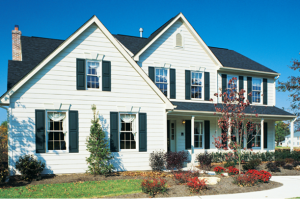 Wood siding is perhaps the most traditional house siding option. It offers a classic look, in many styles, that is durable, long-lasting, and naturally insulative. Available in several styles, including traditional clapboard—using long, overlapping horizontal planks—as well as shakes and shingles. Each of these styles is also available in a wide variety of shapes, textures, and finishes, making wood siding extremely versatile and able to accommodate any home's aesthetics. Clapboard is one of the oldest types of house sidings, which is why vinyl is often manufactured to resemble it. Pine, redwood, and cedar are the most common woods used in siding. While pine siding is more affordable, it is also more susceptible to rot and insects than cedar or redwood.
While very durable, wood siding requires pretty regular upkeep. In fact, properly cared for, wood siding has the potential to last for decades. Regular inspections and quick action are needed to guard against damage from rot, mold, and pest infestation. Because wood expands and contracts with the changing climate throughout the year, homeowners often need to redo the caulking around the exterior window and door trim. Finally, wood siding needs to be refinished every five years or so in order to seal the material and repel moisture.
Engineered Wood Siding
Typically manufactured from wood chips bound together with resin and compressed to create a board, engineered wood siding offers the look and feel of wood siding that is far more durable than pine but much less expensive than cedar or redwood. Engineered wood siding is also typically treated to guard against rot and pest infestation. As house siding options go, engineered wood is considered one of the most ecofriendly choices because it provides an alternative to the widespread clearing of trees for cultivating building materials. It is also incredibly durable, with some manufacturers offering up to 50-year warranties. The biggest drawback to using engineered wood siding is in the variability of quality between manufacturers. It's important to choose a company that has a tested reputation for quality and who backs their products with a reliable warranty. Similar to traditional wood siding, engineered wood siding needs to be cleaned and painted or stained periodically to help guard against moisture intrusion.
Fiber Cement
Fiber cement siding is a composite manufactured by combining cement and cellulose or wood fibers with other materials to form clapboards, panels, battens, boards, and exterior trim. Sometimes referred to as Hardie board, which is a major manufacturer of fiber cement, this durable option is moisture and pest resistant. It also stands up to extreme weather, including hail and flying debris during severe storms, and withstands extreme shifts in temperature and moisture without enduring the shrinks and swells that cause cracking in wood siding. Fiber cement is also non-combustible, which is more beneficial in arid climates where wildfires are a possibility. But this feature also protects your house from fires caused by lighting strikes. Fiber cement also takes paint exceptionally well, allowing for more time between refinishings.
Brick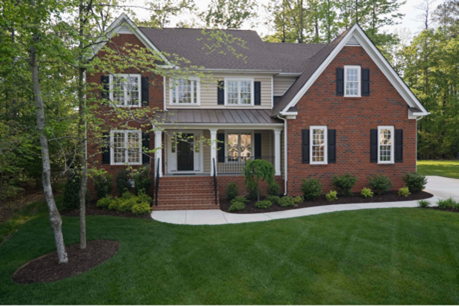 Brick offers a gorgeous, classic look that will stand the test of time. In fact, brick will likely last as long as the house does, with the wooden framing and interior components failing long before the brick ever falters. Made from fired clay, brick is available in a wide range of colors, sizes, and textures. Brick, which has been used since 7,000 BC, is one of the oldest known building materials, and it used to provide the structure of the building. Today, a brick veneer is usually installed once the home's wooden framing is complete and the exterior walls are wrapped to prevent moisture intrusion.
Brick can be susceptible to moisture, allowing moss, mold, or mildew to grow on the northern and western facing sides of the house. Treatment to remove these is necessary to prevent damage to the bricks. Brick can also erode over time due to the splash back of rain or rising dampness from the ground. Coupled with freezing and thawing cycles, bricks that have retained water may begin to crack. Brick needs to be regularly inspected, and any discovered problems need to be addressed immediately to prevent further damage.
Stone Veneer
Homeowners who want the elegant look of stone, without its exorbitant cost or weight, look to stone veneer siding. Advances in materials and manufacturing processes have led to the creation of veneer that looks authentic. Stone veneer is fabricated from cement and aggregates and colored with pigment before it is baked in textured molds. Stone veneer is frequently added to exterior foundation brick and around entry ways, porch columns, and first floor exterior walls. It is significantly lighter than actual stone, while still offering durability to last 25 to 70 years, depending on care. Maintenance is minimal and includes filling cracks in the mortar as they develop during freeze and thaw cycles throughout the year.
Call Aapex Construction & Restoration Today!
If you're considering which house siding option would be best for you, we're here to help. We have more than 20 years of experience in the construction industry and deliver quality workmanship and exceptional customer service on each project. Contact us today for a consultation!
Related Articles
Great Tips for Choosing Your Home's Exterior Colors
The Ugly Side of DIY Exterior Home Renovations