Home repairs and improvement projects go hand in hand with homeownership. But when a project or repair exceeds your abilities, who do you call to complete the work? Friends may start offering you the names of their favorite handymen or contractors, but do you know the difference between the two and when to call one over the other? In this article we will explain the difference between the two so you can know who to call the next time your home repair or improvement project requires the help of a professional.
What is a Handyman?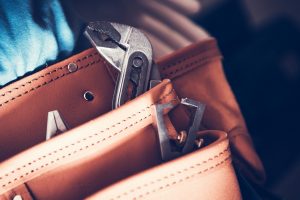 As the name implies, a handyman (or woman) is a person skilled at completing small repairs or minor home improvements. People often hire handymen to complete odd jobs around the house or to do interior or exterior painting. In the state of Ohio, there are no licensing requirements to do business as a handyman, but there are limitations in what a handyman is permitted to do without a specialty license. Any job that requires a permit – like updating the electrical wiring in a home or completing structural repairs or alterations – must be completed by a licensed contractor.
What is a Contractor?
A contractor is a tradesman licensed by the state or locality in which they complete work. Any work that requires a permit must be completed by a contractor. In the state of Ohio, state-level contractor specialty licenses are required in order to be able to install or perform repairs on HVAC, plumbing, electrical, hydronic, or refrigeration systems. Without these licenses, a tradesperson skilled in these areas can work under a licensed contractor. To complete structural repairs or alterations, a general contractor license is required. These are handled locally with each city setting standards for what is required to obtain a general contractor's license.
To become a licensed specialty contractor in Ohio, a person must meet several requirements, including having at least five years of experience working under a licensed tradesperson in the specialty for which they are applying. Once a person has been determined to be eligible for a specialty contractor license, they must then pass an examination that tests their knowledge about the subject of the specialty license. Finally, once passing the license exam, a contractor must secure at least $500,000 of contractor liability insurance and apply their license and the insurance to a "contractor company." In other words, there is no such thing as a freelance contractor. They must either work for or own a contractor company under which they operate as a contractor.
What is a General Contractor?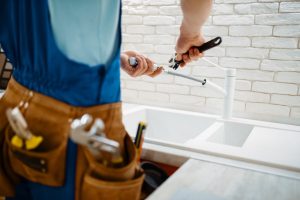 A general contractor oversees the completion of a project, often by hiring and supervising several specialty contractors. General contractors handle structural repairs or alterations, including construction of a building, remodeling projects, additions, or subtractions. General contractors must be licensed and registered with the locality in which they are completing work. Each locality sets its own requirements and regulations for the general contractor licensure. In many cases, to obtain a general contractor license, a person must already be licensed in all of the state-level specialty licenses – HVAC, plumbing, electric, hydronic, and refrigeration. As with a contractor license, a general contractor must also provide proof of contractor liability insurance, with minimum limits varying by locality.
When to Hire a Handyman v. Contractor
For small projects, with limited potential for structural damage to your home (and minimal risk of injury), a handyman may be your best choice. Generally, their costs are lower because they are not required to carry liability insurance. A skilled handyman can complete small projects – like installing a new faucet, patching a bit of drywall, or installing a new ceiling fan – in little time for a relatively minimal cost. However, relying on a handyman for larger projects does have significant drawbacks. One big issue with hiring a handyman is in being sure of the quality of their work before they begin completing projects around your home. Most handymen get work through referrals. Verifying their integrity and workmanship can be difficult as they are not registered with the Better Business Bureau or any other regulatory agency. Because handymen are not required to carry liability insurance, you assume the financial risk of damage they may do to your home. Or themselves while completing work in your home.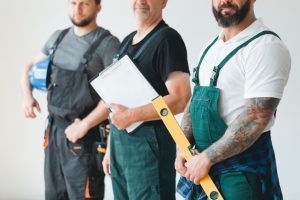 Contractors, on the other hand, are the prudent choice anytime you are looking to significantly repair or modify the structure of your home or any of the systems covered under Ohio's specialty contractor licenses. For example, while you may be able to rely on a handyman to fix a leaky sink, you will want to hire a licensed plumber to handle any major plumbing work throughout your home. The licensing process ensures contractors are both knowledgeable and experienced. Because they are required to carry liability insurance, you can also rest easy knowing any accidental damage to your home (or your contractor) will be covered. Whenever you're hiring somebody to complete work that will require a building permit, a contractor is not only the prudent choice, it is the required choice. This requirement helps ensure state and local building codes are being met, which helps protect you and your loved ones from structural or system failure within your home.
At Aapex Construction & Restoration, our team has more than 20 years of experience in the industry. We have assembled some of the top craftsmen in our industry to create a team that provides exceptional workmanship and customer service. As a general contractor, Aapex is properly licensed, certified, and insured, and all of our specialty trades hold current certification and licensure as required by the state of Ohio. Contact us today for a consultation!
Related Articles
Watch Out for Storm Chasing Contractors – What to Look For