Sliding in to the modern roaring '20s, we cannot help but be excited about some of the most prominent kitchen remodeling trends that are sweeping the nation. From bold new colors and wide-open spaces to mixed metal concepts and multi-dimensional lighting, these new trends are sure to stand the test of time.

Beautiful Hues of Blue
Both Sherwin-Williams and Pantone have announced their 2020 picks for Color of the Year, and given the surging decorating trend of incorporating blues into every room of the house, it's no surprise that each has picked a gorgeous hue of blue. Navy cabinetry has become so popular that many cabinet manufacturers are offering it as a standard color, making your kitchen remodeling project that much easier.
Double Island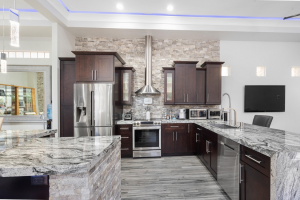 The kitchen has been the hub of the home for at least the last couple decades, and the increase in popularity for sprawling great rooms is leading to kitchens having even more space to expand. The kitchen island, once a luxury, has become a mainstay in most kitchens, so much so that it now serves at least two purposes at any given time. Whether an area for meal prep, doing homework, eating breakfast, or entertaining, the kitchen island is prime real estate in any kitchen. Given room to expand, many homeowners are opting for a second island that serves as an area for entertaining and dining, reserving the central island – complete with a prep sink and abundant storage – for meal prep.
Open Cabinetry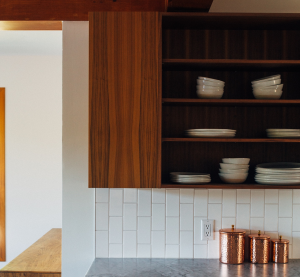 More open kitchen designs are hugely popular this year, including open or glass front cabinetry or even doing away with upper cabinetry altogether and replacing it with rustic shelving. The growing trend of including more sprawling windows has also contributed to this trend, leaving little room for the stately oak cabinets of years past. Homeowners are opting for a sleek, minimalist look where they can display their favorite china or an elegant spice collection, adding their own personal flair and personality to the kitchen décor. To accommodate the dwindling upper cabinet space, many kitchen remodels feature deeper drawers and more expansive lower cabinets.
Mixed Metal Concepts
Many of the kitchen trends we are seeing this year feature a blend of materials, rather than choosing just one, and metal options are no exception to this. In a super chic throwback to the brass hardware that was so popular in the '90s, brushed gold hardware is surging in popularity, and pairs especially well with the popular hues of dark blue pouring into the kitchen. No longer do homeowners feel the need to choose one type of metal, however, opting instead to have brushed gold cabinet hardware, brushed steel faucets, all accompanied with rustic warm woods. Homeowners are also not only mixing metal types, but finishes as well, incorporating satin, unlacquered, and even polished finishes into the same space. In additional to mixed metal, homeowners are also opting for mixing up the cabinetry, including brighter color upper cabinets and darker lowers, sometimes in a different material altogether. Mix and match is without question one of the most exciting kitchen remodeling trends of this year.
Counter-to-Ceiling Backsplash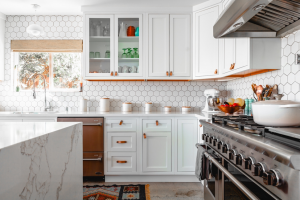 Owing largely to the trend to reduce upper cabinetry, counter-to-ceiling backsplashes are growing in popularity, providing not only a bold accented look for any kitchen, but also offering a wall that is easier to clean and much more durable than a painted wall. Many kitchens feature more understated tiles that, when put together to make up the majority of a wall, create a bold impression. Others showcase marble slab, with the natural beauty of the stone presenting like a work of art that becomes the focus of the entire room.
Bold Appliances
The pistachio appliances of the '70s gave way to a much more conservative trend in appliance colors, leaving homeowners with only white, black, and stainless steel to choose from. In recent years, more adventurous options, like matte black, have come about, but a huge growing trend this year is bold appliance colors that offer a splash of color that complements the rest of your kitchen's design. Luscious reds, cool blues, and even sunshiny yellows are getting the nod for many kitchen remodeling projects.
Multi-dimensional Lighting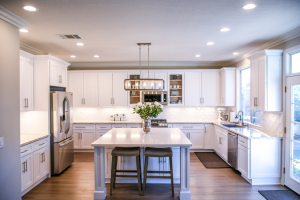 For many cooks, kitchen lighting is one of the biggest things they focus on during a kitchen remodeling project. It's not just about having enough light, it's about having the right amount of the right kind of lighting. Gone are the days when a homeowner had to choose between their various lighting options. Today, the ideal kitchen will have a perfect blend of natural, ambient, and task lighting. Large windows behind the counter not only provide a sprawling view but ample natural light throughout the day. Paired with a gorgeous chandelier as well as focused lighting, today's home cooks are enjoying multi-dimensional lighting to suit all their needs.
Which of these kitchen remodeling trends are you hoping to incorporate into your dream kitchen this year? Contact us today to start making your dreams a reality.
RELATED ARTICLE:  Best Countertops for your Kitchen