When the pandemic began, interior color palettes were trending toward warmer hues of blue, even edging on green, with underlying designs in neutral greys, beiges, and whites. It probably comes as no surprise that within the next year, as people were spending more time in their homes than ever before, people began gravitating toward more vibrant colors. As 2022 approaches, the newly trending colors match our optimism for a life returning to normal, and we are moving toward once again surrounding ourselves with calming, natural hues. Read on to discover the hot house colors of 2022 and get inspired for your next remodeling project.
Shifting Away from Cool Neutrals and Jewel Tones Interior Paints
When the pandemic began, our homes were suddenly transformed from the place we returned to at the end of the day to our offices, schools, entertainment hubs, and a place to relax. Because of this, our interior design plans became multi-faceted, providing secluded, calming spaces where we could relax as well as areas that sparked creativity with bold, vibrant colors. As the world begins to get a handle on the pandemic and we look to the New Year with the hope of things returning to normal, several major paint companies have named their colors of the year for 2022. All are more muted palettes, that maintain the bold, richness of the years before while channeling happiness, optimism and tranquility.
Sherwin-Williams 2022 Color of the Year—Evergreen Fog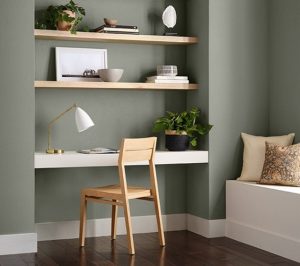 Described as "a chameleon color of gorgeous green-meets-grey, with just a hint of blue," Sherwin-Williams's 2022 Color of the Year is a calming hue that looks good in any light and pairs beautifully with neutral earth tones as well as vibrant splashes of color. A perfect color for bedrooms, bathrooms, living rooms, and even lower kitchen cabinets, Evergreen Fog is neutral enough to lay the foundation for an entire room, but bold enough to give a sophisticated splash of color in lighter spaces
Velspar 2022 Colors of the Year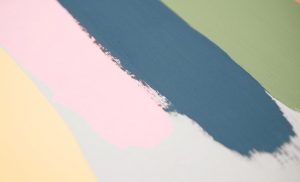 Every year, Velspar offers a flushed-out palette that reflects the coming season's design trends. For 2022, Valspar offers a bold palette of warm neutrals, dusty pastels, and soothing hues of blue and green. Just as Sherwin-Williams predicted, Velspar expects a turn toward nature tones, that bring "a calm, comfortable presence into your home." Featuring colors from a wide spectrum, including buttery yellows and soothing greens to deep blues and greys, Velspar's 2022 Colors of the Year are inspired by the beauty of nature come to life inside your home.
Glidden 2022 Color of the Year—Guacamole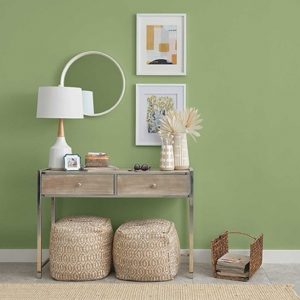 With Sherwin-Williams setting the standard by naming a subdued, yet rich, green as their Color of the Year, it's no surprise Glidden answers back with a slightly more vibrant shade that brings a "spirited yet soothing, organic energy to any space." Neutral enough to look good in any space, Guacamole pairs nicely with white or beige accents and honey-colored wood and is versatile enough to create a soothing, yet energizing, space in your home.
Behr 2022 Color of the Year—Breezeway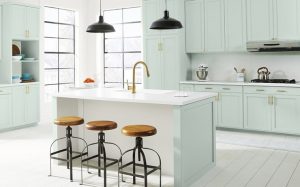 Behr's 2022 Color of the Year inspires tranquility as it calls to mind lapping waves along pristine shores dotted with crystal clear sea glass. A delicate shade of green, with silvery blue undertones, Breezeway pairs beautifully with creams, taupes, and wood tones and adds a peaceful, coastal feel to any room, from kitchens and bathrooms to living areas where people go to relax.
PPG 2022 Color of the Year—Olive Sprig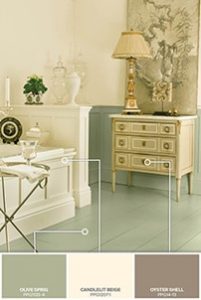 Celebrating yet another shade of green that inspires tranquility and calmness, PPG's 2022 Color of the Year is described as "an elegant, grounded, versatile and highly-adaptable grey-green." PPG selected this as their color of the year to celebrate regrowth and resiliency that will brighten any space with "organic liveliness." Olive Sprig comes to life alongside creams, grey-blues, and all wooden tones and brass accents. Paired with darker green tiles to create an Edenic space or featured on lower kitchen cabinets, this color resonates peacefulness and creates calm and focus.
Aapex Construction & Restoration is here to help you build your dream space!
Whether you've fallen out of love with your home or simply run out of space, remodeling can help you reclaim your home and redefine how you use it, including the colors you surround yourself with. Often with a little creativity, you can transform your home on any budget. We work with you to utilize existing space to create your dream home, with room to grow. Don't wait until you're ready to move to create the home of your dreams. Enjoy your home today! Contact us for your consultation.
Related Articles
The Top 5 Reasons People Remodel Their Home
The Top Remodel Projects with the Biggest Return on Investment
Best Countertops for Your Kitchen Remodel