With exterior painting season quickly approaching, coupled with a housing market that is expected to continue its steady climb this year, many homeowners are turning their attention to repainting their exterior. A fresh coat of paint is one of the easiest and least expensive ways to freshen your home's exterior and increase its curb appeal. With a rainbow of exterior colors to choose from, it can be daunting deciding which is right for your home. While most realtors recommend homeowners paint their exterior white or grey if they are preparing to list, bolder color choices are becoming more and more popular in the housing market. So how do you choose? Here we offer our best tips for selecting exterior colors that will freshen up your exterior and showcase your home's best features.
Consider your Home's Architecture and Neighboring Homes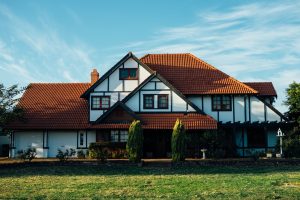 Unless you are planning an entire exterior overhaul, the more permanent elements of your home's existing exterior design will need to be taken into account as you choose the palette. You will want your home's new exterior colors to complement the roof, stonework, patios, walkways, woodwork and any fencing. If, for example, your home's fixed features have blue undertones, as in the home pictured above, you will want to consider the effect of a "cooler" palette (blues and greys) versus a warmer palette (reds and browns). A cooler palette will create a more unified look, while a warmer palette will tend to create more contrast.
You will also want to consider how your home is positioned on your property as well as the surrounding landscape. If surrounded by trees set back from the road, a house with a darker color scheme will tend to disappear into the foliage. You may like the idea of your home blending in with the surrounding landscape, or you may prefer to opt for brighter colors to allow it to pop out of the background.
Work with a Palette of Coordinating Colors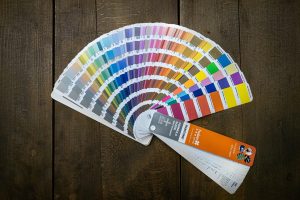 Long before reaching for the color wheel, two of the biggest considerations you need to make concerning exterior color choices are your home's architecture and style as well as the color schemes for other homes in your neighborhood. As the most public design choice you will make, your home's exterior colors should complement the structural style and fit within the general feel of the neighboring houses. For example, if you live in a stately Victorian home in a neighborhood surrounded by painted ladies, a bold color palette for your exterior design may be appropriate, perhaps even encouraged. Whereas, if you live in an elegant Tudor style house, a more subdued neutral palette will be more fitting. If you are not sure what color schemes would look best for your home's architecture, take a drive around town, with an eye to the exterior palettes for other homes of a similar style.
Choose Colors that Coordinate with Your Home's Fixed Features
A home's exterior palette is typically made up of three components: the field, accent, and trim. The field color is the primary color, which will dominate the majority of the home's painted exterior surfaces. The accent is used for smaller areas, like doors and shutters, while the trim is used for door and window casings, railings and banisters, and roof edging. Traditionally, the trim color will contrast with the field color, especially if the field color is dark. However, a more monochromatic palette may feature a trim that is a darker shade of the field, or visa versa. Especially stunning is opting for a light field color and choosing a dark trim, which will really showcase your home's elements. The accent is often chosen from a hue that is a drastically different "temperature" from the field color. For example, if the home is painted beige, with subtle red undertones, making it a "warmer" temperature, a homeowner may opt for a turquoise front door, taking from a "cooler" palette. Accent colors should be used sparingly, with the mindset that less is more.
Take Time to Get the Full Picture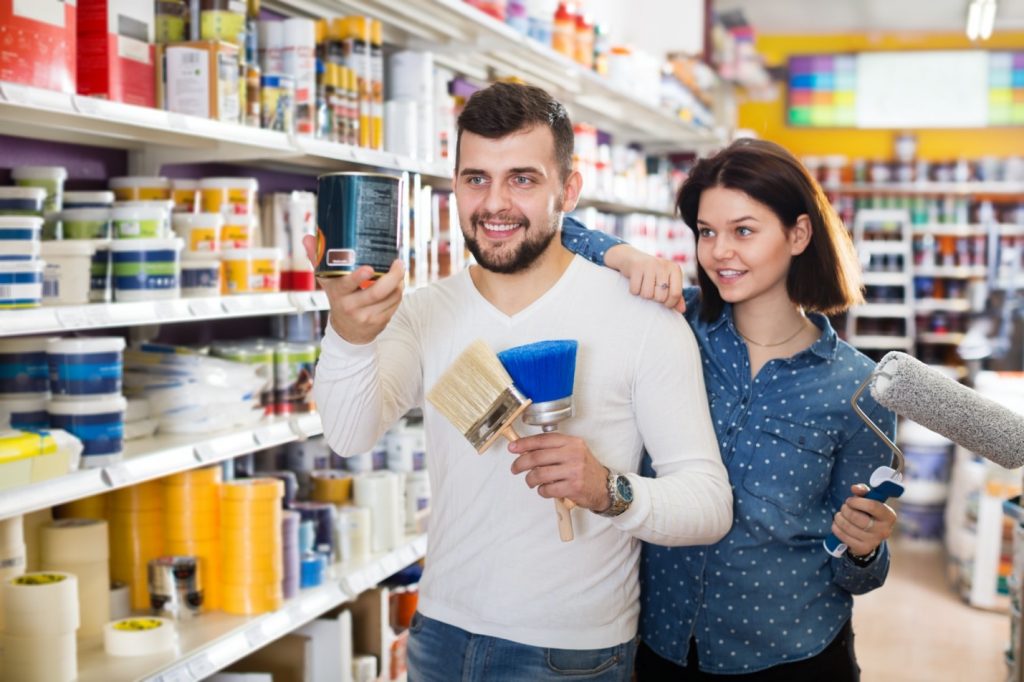 While the design wall at your local paint store will likely provide endless options for you to consider, it is very difficult to get a sense for how your home will look in a new color by holding up a paint chip to an exterior wall. Several paint manufacturers (Sherwin-Williams, Behr, and Benjamin Moore, just to name a few) offer online visualizers that allow you to upload photos of your home to see a color "modeled" before you buy. While these are useful, they will only give you a sense for how a color palette will look on your home's exterior. Once you have narrowed down your choices, we recommend getting a sample of your top contenders and painting small, inconspicuous sections of your home to get a real feel for how your color choices will appear on your home's exterior. Paint a section on both the northern and southern facing sides of your home (southern facing will tend be bathed in sunlight, while northern facing will tend to be in shadow) and observe the colors at different times of day in different types of weather, when possible. Unlike painting interior walls, painting the exterior of your home is rather labor intensive and not easily re-done. So be sure to take your time in deciding on a palette.
Are you considering sprucing up your home's exterior? Contact us today for a consultation.
Related Articles
The Top Remodeling Projects with the Biggest Return on Investment
Best Countertops for Your Kitchen Remodel
Built to Last: The Life Expectancy of 5 Popular Roofing Materials